澳大利亚素食认证规则(一)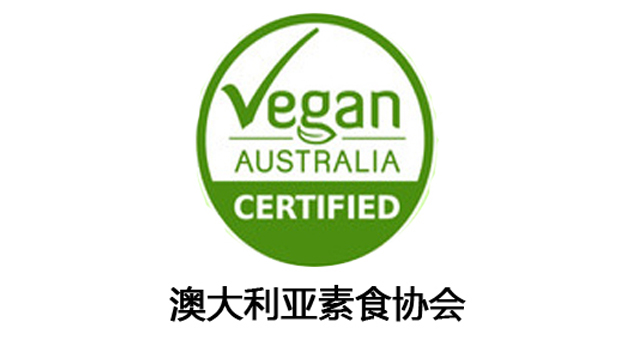 1. VeganAustraliaandtheVeganAustraliaCertifiedLabel
澳大利亚素食协会
和
澳大利亚素食协会
认证标签
1.1. Vegan Australia (ABN 21 169 219 854) is an organisation which campaigns nationally for veganism. Vegan Australia supports the Australian vegan community,informsthepublicabouttheprinciplesofveganismandpresentsa strong voice for veganism to governments, institutions, corporations and the media. Vegan Australia is dedicated to making a difference for animals, people and our planet through the promotion of veganism and a vegan Australia. VeganAustraliaisaregisteredcharityundertheACNC.
澳大利亚素食协会(ABN 21 169 219 854)是一个在全国范围内开展素食运动的组织。澳大利亚素食协会支持澳大利亚的素食主义社区,向公众宣传素食主义的原则,并向政府、机构、企业和媒体表达强烈的素食主义的声音。澳大利亚素食协会致力于通过推广素食主义和纯素食澳大利亚来为动物、人类和我们的星球带来改变。澳大利亚素食协会是ACNC下的注册慈善机构。
1.2. Vegan Australia envisions a world in which people treat animals with respect, ensure justice for them and enable them to live their lives free of human exploitation, use and ownership. Vegan Australia strives to be a respected and credible organisation that gains the trust of both individuals and institutions, so theychangetheirattitudeandbehaviour,resultingintheendofproductionand consumption of animal products and the abolition of the use of animals for any purpose, including food, clothing and entertainment. Vegan Australiacampaigns for veganism as the basis of a just and ethical society and promotes the benefits of veganism to human health, the natural environment and social justice.
澳大利亚素食协会设想了这样一个世界:人们尊重动物,确保它们得到公正对待,使它们能够在没有人类剥削、使用和占有的情况下生活。澳大利亚素食协会努力成为一个受人尊敬和可信的组织,为赢得个人和机构的信任,他们改变态度和行为,使动物产品的生产和消费停止,并禁止出于任何目的使用动物,包括饮食、衣服和娱乐。澳大利亚素食协会倡导素食主义是公正和道德社会的基础,并宣传素食主义对人类健康、自然环境和社会正义的好处。
1.3. Vegan Australia is founded on the followingconsiderations:
澳大利亚素食协会的建立基于以下考虑:
(a) Sentientanimalsvaluetheirownlifeandbodyandhaveaninterestin continuing their existence and avoidingsuffering.
有知觉的动物珍惜自己的生命和身体,并有兴趣继续生存且避免遭受痛苦。
(b) Animalshavetherighttobetreatedwithrespectandjusticeandnotto be treated asproperty.
动物有权受到尊重和公正对待,而不应被视为财产。
(c) Productionofanimalproductsnecessarilyresultsinsufferingordeathof animals.
动物产品的生产必然导致动物的痛苦或死亡。
(d) Humanshavenoneedforanyanimalproductsandinparticularareable to live healthily on a vegandiet.
人类不需要任何动物产品,特别是能够以素食健康地生活。
(e) Many people who adopt a nutritious vegan diet will enjoy significant healthimprovementsbyreducingtheriskofmajorkillerssuchasheart disease, stroke, cancer anddiabetes.
许多采用营养素食的人,遭受心脏病、中风、癌症和糖尿病等的风险将显著减小,从而大大改善健康状况。
(f) Raising and processing of animals for food is a major cause of environmental damage, including land degradation, watershortage, deforestation, ocean degradation, air pollution and climatechange.
饲养和加工动物作为食物是造成环境破坏的一个主要原因,包括土地退化、缺水、滥伐森林、海洋退化、空气污染和气候变化。
(g) Veganism is an ethical response to many urgent social justice issues. The negative consequences of animal production impact heavily on the poor, the disempowered and thehungry.
素食主义是对许多紧迫的社会正义问题的道德反应。动物生产的消极后果严重影响到穷人、弱势群体和饥饿者。
(h) Issuesofrace,culture,genderandclassareimportantfactorsto consider in the promotion ofveganism.
种族、文化、性别和阶级问题是促进素食主义者的重要因素。
(i) Humansshouldreducetheharmcausedindirectlytoanimalsduetothe extraction of natural resources, transportation, development and other humanactivitiesasmuchaspossibleincludingharmduetoagriculture.
人类应尽可能减少自然资源的开采,运输,发展和其他人类活动对动物造成的间接危害,包括农业造成的危害。
1.4. In order to achieve these aims, Vegan Australia provides the right to use its Vegan Australia Certified Label (Certification Mark) on any food or beverage whichanApplicanthasappliedforandthatmeetsthecertificationrulessetout inthisdocument.TheaimoftheVeganAustraliaCertifiedprogramistoensure that products bearing the Vegan Australia Certified Label do not contain any ingredients of animal origin and that animal products have not been used during the manufacturing process. Vegan certification helps both vegan businesses and non-vegan businesses promote their vegan products. It also provides assurance to those looking for veganproducts.
为了实现这些目标,澳大利亚素食协会提供在任何食品或饮料上使用其严格素食澳大利亚认证标签(认证标志)的权利,但前提是申请人必须已经申请,并符合本文件规定的认证规则。澳大利亚素食协会认证计划的目的是确保带有澳大利亚素食协会认证标签的产品不包含任何动物源成分,并且在制造过程中未使用任何动物产品。 素食认证有助于素食主义企业和非素食主义企业推广其素食主义者产品。 它也为那些寻找纯素食产品的人提供了保证。
1.5. The Vegan Australia Certified Label may only be used on specific food and beverages applied for by the Applicant which has been certified by Vegan Australiainaccordancewiththecriteriasetoutintheserules.
澳大利亚素食协会认证标签仅可用于申请人申请的特定食品和饮料,这些食品和饮料已由澳大利亚素食协会根据本规则中规定的标准获得认证。
2.
Definitions
定义
"Applicant" means any entity (whether a sole proprietor or trader, partnership, trust, company, franchise, joint venture, holding company or anyotherbusinessventurewhichoperatesforaprofitornot-for-profit)that has applied to Vegan Australia forCertification;
"申请人"是指已向澳大利亚素食协会提出申请认证的任何实体(无论是独资经营者还是贸易商、合伙企业、信托、公司、特许经营、合资企业、控股公司或任何其他以营利或非营利为目的经营的商业企业);
"Certification" means the result of the process by which an Applicant is determined by Vegan Australia to satisfy all requirements for Certification set by Vegan Australia in these rules;
"认证"是指由澳大利亚素食协会确定申请人满足本规则中对澳大利亚纯素食制定的所有要求的过程的结果;
"Product" means any food or beverage submitted by an Applicant for certification under these rules;
"产品"是指申请人根据这些规则提交的用于认证的任何食品或饮料;
"Vegan Australia" means Vegan Australia (ABN 21 169 219 854) and its board of directors, employees, agents and officers;
"澳大利亚素食协会"是指澳大利亚素食主义协会(ABN 21 169 219 854)及其董事会、雇员、代理商和管理人员;
"Vegan Australia Certified Label" means the trade mark which is the subject of Australian Trade Mark Application 1944358 as depicted in the Annexure to these rules;
"澳大利亚素食认证标签"是指本规则附件中所述的作为澳大利亚商标申请1944358的主体的商标;
"Vegan Australia Certified Product" means a food or beverage product which has been deemed by Vegan Australia to satisfy the Certification criteria andthereforethebusinesswhosellssuchfoodorbeverageispermittedtouse the Vegan Australia CertifiedLabel.
"澳大利亚素食认证产品"指的是被澳大利亚素食协会认定为符合认证标准的食品或饮料产品,因此销售此类食品或饮料的企业可以使用澳大利亚素食认证标签。
3.
Application ofRules
申请规则
These rules shall apply to:
本规则适应于:
(a) Vegan Australia;and
澳大利亚素食协会;
(b) Applicants.
申请者。
4.
Certificationprocess
认证程序
4.1. Applicants are required to submit to Vegan Australia's Certification process which consists of the following four (4)stages:
申请人必须提交澳大利亚素食认证过程,该认证过程包括以下四(4)个阶段:
(a) Qualification;
资格审查;
(b) Assessment;
评估;
(c) Determination;and
裁定;
(d) Audit.
审核;
4.2 ApplicantsmayelecttowithdrawitsProductsfromtheCertificationprocessat anytime.
申请人可以随时选择撤回其正在进行认证的产品。
5.
Qualification
资格
5.1. AnyApplicantwhowishestoapplyforCertificationonitsProductsshalllodge its request by the instructions of Australia Vegan Certificate Standards.
任何希望为其产品申请认证的申请人均应满足澳大利亚素食认证标准的要求。
5.2. Vegan Australia will provide to the Applicant an invitation pack which includes informationonCertificationandthedocumentationandinformationrequiredby the Applicant during the assessment of theirapplication.
澳大利亚素食协会将向申请人提供邀请函,其中包括有关认证的信息以及申请人在评估申请过程中所需的文件和信息。
6.
Assessment
评估
6.1. ThefirststageoftheassessmentphaseofCertificationrequirestheApplicant to submit information and documentation to Vegan Australia to demonstrate thattheProductsareveganproductsforthepurposesofCertification.
认证评估阶段的第一阶段要求申请人向澳大利亚素食协会提交信息和文件,以证明其产品是用于认证目的的素食产品。
6.2. Vegan Australia may require additional documentation from the Applicant to confirm the ingredients and method of creation of the Products meet the conditions of Certification. Such requests will be provided to the Applicant during the Qualification and/or Assessment phase ofCertification.
澳大利亚素食协会可能需要申请人提供额外的文件,以确认产品的成分和生产方法符合认证条件。此类请求将在认证的资格和/或评估阶段告知申请人。
6.3. The Applicant must provide documentation to Vegan Australia whichconfirms that:
申请人必须向澳大利亚素食主义者提供文件,以确认:
(a) theProductsdonotcontainanyingredientsderivedfromanimals;
产品不含任何动物源成分;
(b) themethodofcreationoftheProductsadheretoStandardsprescribedin
Attachment A to these rules;
产品的制造方法符合本规则附件A的要求;
(c) the Applicant is competent and experienced in their type ofbusiness, with good repute and financial standing;and
申请人在其业务类型方面有一定能力和经验,具有良好的声誉和财务状况;
(d) the Applicant is willing and able to achieve and maintain theStandards prescribed in Attachment A to theserules.
申请人愿意并能够达到并维持本规则附件A中规定的标准。
6.4. Thenatureofthedocumentationrequiredunderrule6.3willbeadvisedtothe Applicant during the Qualification phase ofCertification.
规则6.3要求的文件的性质将在认证资格阶段告知申请人。
7.

Determination

裁定

7.1. Once the Applicant has submitted the relevant documentation required under the assessment phase of Certification, the Applicant's application in its entirety will be considered by Vegan Australia in order to make a determination as to whether the Products qualify as Vegan Australia Certified Products. The determination will be based on the documented evidence provided by the Applicant, including ingredients lists, recipes and procedures to minimise cross contamination. If any ingredients may be of animal origin or are compound ingredients, Applicants must confirm the sub-ingredients and non-animal sources. Vegan Australia will advise how this confirmation is to be done, which may include declarations by the Applicant or statements from the Applicant's suppliers. Applicants must also supply a declaration stating that the submitted products meet and, during the period of Certification will continue to meet, the conditionsofCertificationandthatanychangestoingredientsorprocesseswill be notified to VeganAustralia.

申请人提交了认证评估阶段所需的相关文件后,澳大利亚素食协会将对申请人的全部申请进行审核,以确定产品是否符合澳大利亚素食认证产品的条件。该决定将基于申请人提供的书面证据,包括原料清单、配方和工艺流程,以尽量减少交叉污染。如果任何成分可能来自动物或是复合成分,申请人必须确认子成分和非动物来源。澳大利亚素食协会将建议如何进行确认,其中可能包括申请人的声明或申请人供应商的声明。申请人还必须提供一份声明,说明所提交的产品符合认证条件,并且在认证期间将继续符合认证条件,任何成分或工艺的变化都将通知澳大利亚素食协会。

7.2. IfProductssatisfythecriteriaforCertification,VeganAustraliawillconditionally approve the application of theApplicant.

如果产品符合认证标准,澳大利亚素食协会将有条件地批准申请人的申请

7.3. Applicants will be advised of Vegan Australia's determination of their application within 3 business days of the decision being made and formal notification, including the Licence Agreement will be sent to the Vegan Australia Certified Businesswithinten(10)businessdaysoftheinitialnotification.

澳大利亚素食协会将会在做出决定和正式通知后的3个工作日内告知申请人对其申请的决定,包括正式许可的许可协议将在初次通知后的十(10)个工作日内发送给获得澳大利亚素食认证的企业。

7.4. Vegan Australia will notify the Applicant in writing where the Applicant's ProductsfailtomeetCertificationcriteria.Thewrittennotificationwillinclude the reasons for the decision and the grounds upon which the decision is founded.

如果申请人的产品不符合认证标准,澳大利亚素食协会将书面通知申请人。书面通知将包括作出决定的理由和作出决定的依据。

7.5. Applicant'swhoseProductsdonotqualifyforCertificationmayre-applythree

(3) months after the date of denial once changes are made to the Products which may positively affect the Certification criteria.

产品不符合认证条件的申请人,当其产品根据澳大利亚认证标准做出积极改进时,可在拒绝之日起三(3)个月后重新申请。

更多vegan素食认证细则,欢迎致电400-001-7706详询,专业认证师带您一站式搞定vegan素食认证!