HFC清真认证机构教法委员会主席本月上旬参加巴基斯坦清真认证标准PS3733会议
HFC清真认证机构 伊斯兰教法委员会主席Maulana Zeesha Ali,于2018年11月10日出席了在巴基斯坦拉合尔Maisonette酒店,由清真保障中心(CeHA)举办的会议,旨在根据伊斯兰教法准则和巴基斯坦PS3733清真认证标准,重塑巴基斯坦国内满足清真食品要求的必要条件。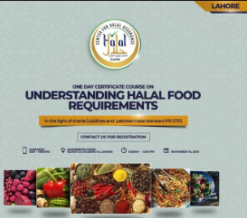 本次会议由清真保障中心CeHA组织,CeHA是在巴基斯坦证券交易委员会(SECP)注册的私人有限公司(Pvt. Ltd),它在拉合尔(巴基斯坦)设有总部,在不同的地方和国际地点设有分事处。
CeHA在其董事会和强大的伊斯兰教法咨询委员会,及伊斯兰教法协调员的指导下运行,这些顾问包括来自全球各地的20多名伊斯兰教法专家 。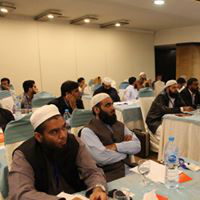 该公司与不同的伊斯兰神学院合作,通过提供世界闻名、经验丰富和有能力的伊斯兰教法学者的专业知识和服务,在全球范围内促进清真消费,旨在为该行业提供完整的清真产品及清真认证解决方案。
CeHA在伊斯兰教法领域和技术领域引入了独特的相关资质和经验。CeHA综合研究团队,由合格的营养学家、食品微生物学家、技术人员组成,使得其团队脱颖而出。
"这对我来说是一次非常棒的学习经历,通过这次会议,我们与HALAL产业建立了非常重要的联系",Zeesha Ali总结道。他还向一些组织者和参与者介绍了HFC "致力于我们全球所有权益相关者持守清真标准"的使命。
专家做关于清真食品认证及其标准的会议发言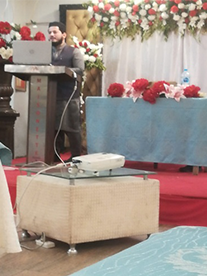 总共四次会议发言由下列人员分别阐述:
1、Mufti Suhaib Ashraf(清真保障中心CeHA伊斯兰教法理事会成员)
2、Mufti Muaz Ashraf(清真保障中心CeHA常务董事兼Shariah中心董事)
3、Mufti Muhammad Qasim(伊斯兰教法顾问/清真食品认证局Veritas副经理)
4、Mr. Tariq Qamar( Veritas 运营经理) 。Veritas是全球领先的检测、检验和认证机构,也是大多数国家和国际组织认可和信任的专业机构。
Mufti Suhaib Ashraf先生概述了以下内容:
1、清真在《古兰经》和《圣训》中的重要性;
2、清真产业的全球视野 (清真和非清真的概念并不局限于食品或化妆品,现在清真旅游、清真商业、清真金融的概念也正在兴起;
3、清真产业的相关术语;
4、伊斯兰教屠宰规则。
Mufti Muaz Ashraf 先生讲述内容分以下几点:
1、清真的7个基本禁令;
2、清真动物和非清真动物的区分;
3、伊斯兰教法饮食法;
4、用于药品和面包店的敏感原料;
5、清真的敏感问题;
6、伊斯兰教法对酒精、人造肉和转基因食品的判断裁定;
Mufti Qasim先生
概述了巴基斯坦PS 3733
清真认证标准。
Tariq Qamar先生阐述了清真认证的相关步骤: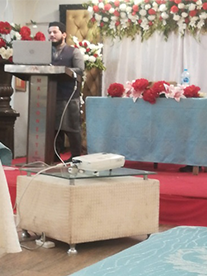 1、最高管理层必须做出承诺;
2、必不可少的准备程序;
3、从农场到餐桌的预防体系;
4、风险评估;
5、审核验证;
6、针对主要不合格和轻微不合格产品的纠正措施;
7、避免造假欺骗;
8、食品污染(部分清真);
9、清真文化。Tariq Qamar说整个机构从底层到顶级管理层都应具有清真认证食品保障的责任意识是非常有必要的。
对进口食品即将执行PS3733清真认证标准
在会议及休息期间,HFC 清真认证机构伊斯兰教法Shariah委员会主席Maulana Zeeshan Ali有机会与Mufti Muaz,Mufti Qasim和Mufti Suhaib进行一些讨论,进一步跟与会的专家学者证实了几个月后,巴基斯坦政府将封锁其边境,只有遵守巴国PS3733-2016清真认证标准才能被允许进口;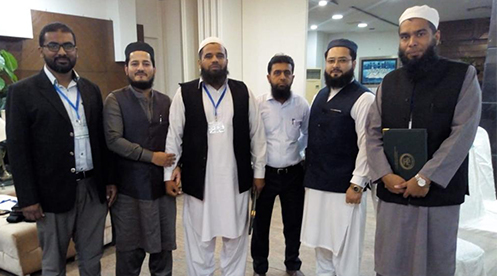 此外,包装审核也会像产品审核一样非常重要;对于鸡蛋检测,烛光蛋是被禁止的,因为其中含有血液。
针对巴基斯坦即将对所有未获得PS3733清真标准认证的国际出口商封锁边境,HFC正在考虑给符合PS3733清真认证标准的供应商提供认证服务,HFC Shariah委员会有来自巴基斯坦深谙PS3733清真认证标准的伊斯兰法学专家,从而帮助国内出口企业可以从中巴经济走廊CPEC贸易中获得最大利益,届时巴国近两亿的穆斯林消费者也将成为"一带一路"又一个冉冉新生的清真食品市场。

HFC Shariah Chairman Attended the Session about Pakistan National Halal Certificate Standards PS3733
HFC Shariah Committee Chairman Maulana Zeesha Ali attended the session
"UNDERSTANDING HALAL FOOD REQUIREMENTS IN THE LIGHT OF SHARIAH GUIDELINES & PAKISTAN STANDARD PS 3733"
hold by center for Halal Assurance on 10th Nov. 2018 at Maisonette Hotel, Lahore in Pakistan.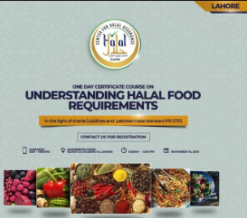 This session was organized by CeHA Center for Halal Assurance. (CeHA) isaPrivate Limited Company (Pvt. Ltd) registered with Securities and Exchange Commission of Pakistan (SECP).
It has its head office in Lahore (Pakistan) and sub offices at various local and international locations.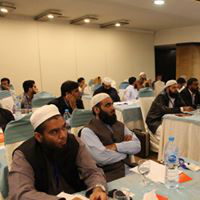 The CeHA runs under its Board of directors and the guidance of its strong Sharia Advisory Board and Sharia Coordinators comprising more than twenty Sharia Experts from across the globe, working with different Islamic Seminaries. The company has been established to promote Halal consumption globally by offering the expertise and services of the worldly renown, experienced and competent Sharia Scholars, who aims to provide complete Halal solutions to the industry.
We bring in a unique blend of relevant qualification and experience in this field of Sharia and technical areas. CeHA comprehensive research team, consisting of qualified Nutritionists, Food Microbiologists Technologists make us stand apart.
"This was a very good learning experience for me and through this session we have some very important contacts in the HALAL industry"concluded by Zeesha Ali. He also introduced HFC to some the organizers and to the participants as well.
Total four sessions were delivered by following speakers:
1.Mufti Suhaib Ashraf (Member of Shariah Board at Center for Halal Assurance CeHA)
2.Mufti Muaz Ashraf (Managing Director and Director Shariah Center for Halal Assurance CeHA)
3.Mufti Muhammad Qasim(Shariah Advisor/Deputy Manager Halal Food Certification Bureau Veritas)
4.Mr. Tariq Qamar(Manager Operations at Bureau Veritas) Bureau Veritas is aglobal leader in Testing, Inspection and Certification (TIC). Bureau Veritas is recognized and accredited by major national and international organizations.
Session # 1 ByMufti Suhaib Ashraf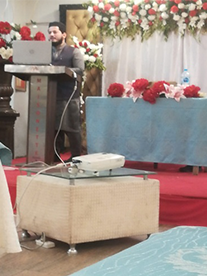 Mufti Suhaib covered the following outline:
I. Importance of Halal in the Light of Quran and Sunnah
II.Halal industry global perspective (The concept of Halal and haram is not limited to the food or cosmetics. Now halal tourism, halal business, halal finance concepts are emerging as well)
III.Halal industry terminologies
IV.Islamic Slaughtering
Session # 2 ByMufti Muaz Ashraf
Mufti Muaz covered the following outline:
I .7 Basic prohibitions
II. Halal and Haram Animals
III. Shariah Dietary Law
IV. Critical Ingredients used in medicines and Bakery
V. Critical Halal issues
VI. Shariah Rulings for alcohol and artificial meat and GM Food
Session # 3ByMufti Qasim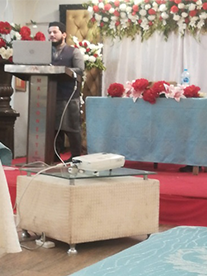 Mufti Qasim covered the following outline:
PS 3733 standards overview.
Session # 4ByMr. Tariq Qamar
Mr. Tariq covered the following outline by describing the following steps for certification:
I .Top Management (Must be committed)
II. Pre Requisite Program
III. Preventive System (From farm to fork)
IV. Risk Assessment
V . Verification (Audit)
VI. Corrective Actions (major non conformity and
minor non conformity)
VII. Free from Fraud
VIII. Food Contamination (Partial Halal)
IX. Culture (Mr. Tariq Qamar said it is very necessary that whole organization from poen to top management must understand that they are responsible for halal assurance)
Some Important Learning Outcomes:
During the session and during the Breaks HFC Shariah Committee Chairman Zeeshan Ali got a chance to have some discussions with Mufti Muaz, Mufti Qasim and Mufti Suhaib, and got some very important issues as following.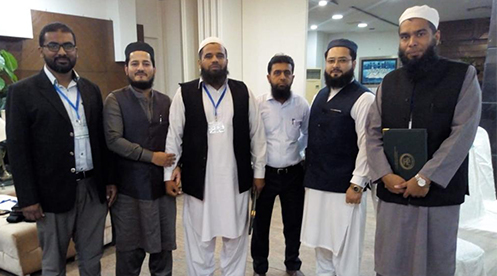 1.In few months Pakistan government is going to seal its borders and no import will be allowed until it follows PS3733-2016 standard. So for Chinese companies want to export Pakistan we may follow PS.
2.Just like product Audit its packaging audit is also very important.
3.For eggs we must also check that candling eggs are not used. Which contains blood.
As Pakistan is going to seal its border for all the international exporters until they got certified as per PS3733, HFC is considering to offer certification as per PS3733 standards, as we have Shariah experts from Pakistan who are well aware of these standards, so our clients can get maximum benefit from CPEC (China–Pakistan Economic Corridor) trade, and Pakistan will also become the new potential international halal marketing for China exportation suppliers.